Karte nicht verfügbar
Datum und Uhrzeit
08.02.2022, 17:00 - 18:00 Uhr
Kategorien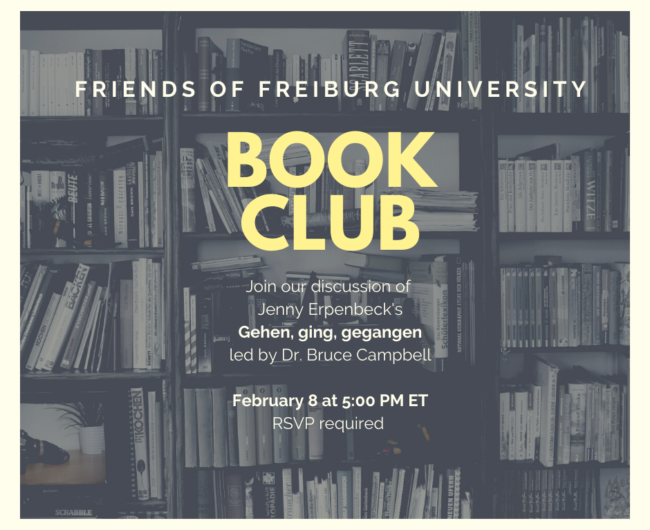 Uni-Freiburg alumnus Dr. Bruce Campbell returns to lead this winter iteration of the FoF Book Club! We will discuss Gehen, ging, gegangen by Jenny Erpenbeck. The novel deals with issues of personal and national identity in present-day Berlin. Erpenbeck has been called "one of Germany's finest contemporary writers" by the New York Times.
The book is available both in English and in German on Amazon. The English version is called Go, Went, Gone and is translated by Susan Bernofsky.
Tuesday, February 8 at 17.00 ET | 14.00 PT 
Click here to RSVP
Advanced registration is required to attend. After registering, you will receive a confirmation email containing information about joining the meeting. It's suggested that you read the book in advance in order to participate in the discussion, but we will welcome all attendees!
Excerpt from a New York Times review of Gehen, ging, gegangen:

"Erpenbeck, one of Germany's finest contemporary writers, has been acclaimed for her vision and imaginative daring. "Visitation" (2010) tells, with impeccable delicacy and calm, the story of a lake house outside Berlin and its changing inhabitants over decades. "The End of Days" (2014) imagines five different versions of the life of its nameless female protagonist, ultimately encompassing much of the 20th century's dark history. Her new book, elegantly translated by Susan Bernofsky and set in contemporary Berlin, tells the story of a recently retired classics professor named Richard who, widowed and childless, seeks focus and meaning in his life: "As it is, everything his wife always referred to as his stuff now exists for his pleasure alone. And will exist for no one's pleasure when he's gone." At first, we encounter Richard as a man of considerable intelligence and erudition, but also as someone mired in his careful routines, in his mastery of banal quotidian detail: "The next day he mows the lawn, then opens a can of pea soup for lunch, then he rinses out the can and makes coffee. His head hurts, so he takes an aspirin."
But fate brings him to a group of African refugees who have been camping in Oranienplatz. He makes his way to a meeting about their plight at a former school in Kreuzberg, and finds himself first frightened, and then compelled: "Often when he was starting a new project, he didn't know what was driving him, as if his thoughts had developed an independent life and a will of their own, as if they were merely waiting for him to finally think them. … Speaking about the actual nature of time is something he can probably do best in conversation with those who have fallen out of it. Or been locked up in it, if you prefer."
What ensues is Richard's intellectual, social and spiritual blossoming. Someone who has known his friends for most of his life, he befriends men from Burkina Faso, Nigeria, Niger and Ghana, and learns the extraordinary, brutal and fragmented narratives of their young lives. He rereads his beloved classics and "experiences a shifting in his conception of the Greek pantheon": "Much of what Richard reads … several weeks after his retirement are things he's known most of his life, but today, thanks to this bit of additional knowledge he's acquired, it all seems to come together in new, different ways."