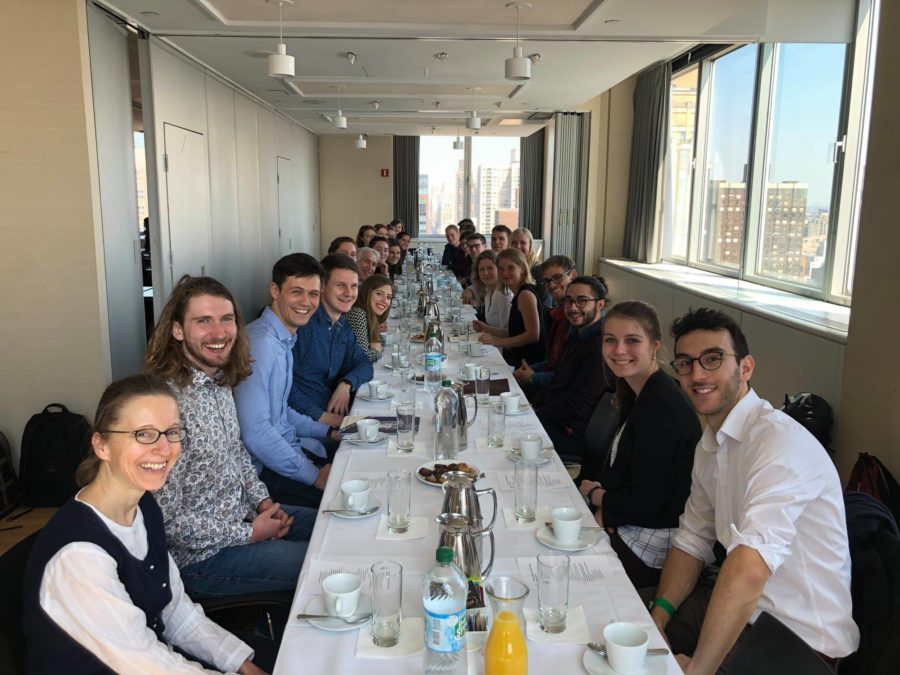 New York alumni visit with Uni-Freiburg Model UN team
Listening to the news on any given day can be overwhelming when you hear the number of global challenges that need to be solved. Fortunately, after meeting with a number of driven Uni-Freiburg students interested in international relations, it seems clear that the future is in good hands.
On Wednesday, March 20, the Friends of Freiburg hosted Uni-Freiburg's delegation to the National Model United Nations conference. The team consisted of 24 students, many of whom have backgrounds in international politics or law, who would be representing the country of Colombia at the conference. President Jeffrey Himmel, of Friends of Freiburg, spoke to the students about alumni relations in general, and the importance of giving back to your home university. He also explained how the alumni chapter in North America could serve as a resource for students who might be interested in mentoring or professional guidance from Uni-Freiburg alumni working in their chosen field.
The students, in turn, presented about their research and journey to NMUN. While Uni-Freiburg had once run a course which included preparation for the conference, it had been discontinued several years ago due to budget constraints. Inspired by the dream of seeing a Freiburg delegation at the conference once more, student delegation leaders Kai Vorberg and Malte Seebens launched an initiative to recruit and train students for the conference once more.
Leon Burghardt, a fellow delegate, interjected at this point in the presentation. "I just wanted to say that, a year ago, I said to Kai, 'One day, we will be sitting in a skyscraper in New York with a delegation of Uni-Freiburg students, with a beautiful view, attending the conference.' And now here we are!"
Students and alumni then mingled with cookies and coffee to talk about life experiences, politics, what to see in New York, and to swap memories of Freiburg.
We caught up with the students after they had returned to Freiburg to ask about their experience in New York — here's what they had to say:
What was the best memory from your trip in New York?
Our favorite memory was visiting the UNDP, the Secretariat, and the UNOCC, to gain insight about the UN's work, by the UN employees during the first days of the study week. It was thrilling to see the 'Situation Room' of the United Nations where all global information on crises and peace missions is gathered. Additional memorable experiences include being at the UN General Assembly Hall listening to speeches from participant students. Group activities such as visiting the MoMA, having dinner and going to karaoke made us have a really good time and helped us bond as friends.
What were some of the highlights from the conference in particular? What were some important lessons you learned or successes you achieved?
The members of the delegation have emphasized that being in such an international atmosphere and seeing people's interest and energy for global change were noteworthy.
Moreover, receiving the Distinguished Delegation Award on the last day of the conference was a memorable highlight for everyone and an important achievement for all of us. We have added another level and another perspective to our understanding of teamwork, specifically that it sometimes requires more time to deliver results than we expect. We all gained substantial expertise about cooperation and communication.
 Why do you think attending NMUN was important and worthwhile?

NMUN is one of the most valuable simulation conferences in the world because it is able to provide a realistic setting for international relations and global politics. Also, it encourages young people to be engaged in world problems, which alone makes it worthwhile to participate in such a conference. We believe that experiencing that kind of setting was definitely beneficial for all of us in terms of personal and academic growth. Additionally, the preparation process for the conference proved to be a hands-on experience: we learned to balance academic and organizational work by involving in nearly a year of project planning. We shared and gained skills in creating and executing plans, improved communication and working together because the preparation was more than just booking tickets and flying to New York City.
Please share any impressions you had from the reception with Friends of Freiburg:
Meeting the New York office of the Freiburg Alumni was a great opportunity for us to get in touch and pool resources with some other generations of former Freiburg students. We experienced the Friends of Freiburg as a very open, approachable and supportive group of people. It was a pleasure having conversations about politics, sharing views and networking together. Furthermore, the location and hospitality were very much appreciated. We hadn't expected such a reception with cookies and coffee – and not even dreamed of the stunning view over the East River.
What was the most challenging part of preparing or participating in NMUN?
While being at the conference, one big challenge was definitely handling the other overzealous participants throwing business cards at you before the sessions actually really started. In session, it was coping with the time pressure put on you by the chairs while remaining professional, friendly and delivering a resolution that is actually worth reading. Some other delegations were very ambitious and competitive which was sometimes not too easy to cope with.
Addressing the topic in an appropriate manner and some depth of content is sometimes difficult while simultaneously focusing on your own countries' policies and interests. In regard to the preparation for New York, funding and finding sponsors for the project was definitely the biggest challenge and a great deal of work. Additionally the time management aspect proved to be sometimes quite difficult, as we had to manage the project in our free time, while simultaneously being full-time students at the University.
What would you hope to see in future years, if Uni-Freiburg continues to participate?

We would really like seeing some future and perhaps even bigger delegations with lots of very motivated, idealistic young people ready to shape the future of international relations. Currently, we are trying to found an e.V. as an organizational basis for future participation in different Model United Nations around the world. Doing that, we would like to hand over our expertise to the next groups to re-establish NMUN as an annual project at the University of Freiburg. Our goal is to integrate MUN as a vivid part of the University of Freiburg. The association we envision would be for knowledge-sharing and staying in touch with other participants.
Thank you for joining us, and we hope to see the next delegation here in 2020! If you are interested in supporting the future delegations, please contact liaison-office@uni-freiburg.de.