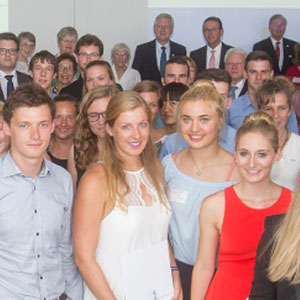 Building Bridges – Shaping the Future!
You can help gifted young persons at our university concentrate for an entire year on their studies, continue their social involvement, and make meaningful use of the possibilities this key stage of life has to offer. A Deutschlandstipendium scholarship gives them this opportunity.
With a donation of 1800 euros, you can sponsor an entire scholarship on your own. But we're also happy to receive smaller donations toward a scholarship. And don't forget: The federal government matches every euro you donate 1:1!
Alumni Freiburg e.V. has been awarding Deutschlandstipendium scholarships to students with the help of your donations for years.
The Deutschlandstipendium program supports talented and hard-working students, encourages them to do their best, and helps to reduce the skills shortage, thus strengthening Germany as a center for research and business. Support the program too and get involved at the University of Freiburg!
The University of Freiburg is one of Germany's most renowned universities and offers its students an excellent education. Through its participation in the Deutschlandstipendium program, the University of Freiburg is pioneering a new model for providing students financial support. With gifts of as little as 150 euros per month or 1800 euros per year, companies, foundations, or private citizens can make an important contribution to the education of a highly qualified workforce in Germany. The federal government matches each donation 1:1, enabling motivated, highly qualified students from all faculties and fields of study to receive a scholarship of 300 euros per month.
More information: Deutschlandstipendium at uni-freiburg.de