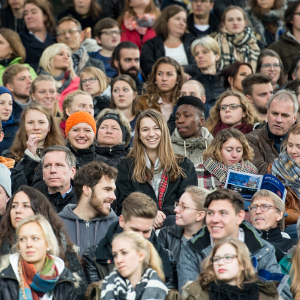 Overcoming Obstacles
Dear alumnae, dear alumni,
"Welcome to Freiburg and to the Albert-Ludwig University." In these days at the start of the winter semester, we welcome our first-semester students at the SC Freiburg soccer stadium. Together with representatives from the faculties and the student body, we familiarize them with what everyday life as a student involves and help them to orient and acclimatize themselves in their new surroundings.
Students need to have an adequate financial basis to get their course of study off to a good start. Beginning students who do not have sufficient funds at their disposal due to disadvantages of a familial, personal, or cultural nature rely on financial aid. The advising services at the Student Service Center and the Studierendenwerk show them how they can register for public financial aid and grants or apply for private student loans and scholarships.
While waiting for funding from these sources to be approved and paid out, the students have to overcome a funding gap that puts a strain on them at the start of their studies, sometimes even causing them to drop out. The purpose of the Studienstarthilfe program is to bridge this gap quickly and according to individual needs.
We aim to establish Studienstarthilfe as a permanent financial aid program at the University of Freiburg. I am delighted that Alumni Freiburg e.V. and the Friends of the University Association have agreed to support it in cooperation with the Maria Ladenburger Foundation. Please donate to this cause to level the financial playing field for our students and help them get their studies off to a successful start.
Greetings from your alma mater,
Prof. Dr. Dr. h.c. Hans-Jochen Schiewer
Rector
1st Chair of Alumni Freiburg e.V