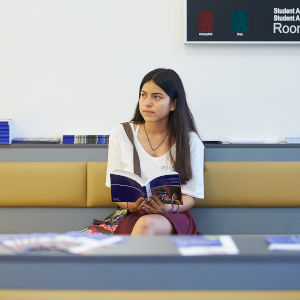 Please donate: Booster association Alumni Freiburg supports the "Student Emergency Grant" program
A university funding program helps students encountering financial difficulties, also due to the coronavirus crisis
Many part-time student jobs have been put on hold or eliminated altogether due to the spread of COVID-19 – whether it's working as a waiter at a cafe, a cashier at a movie theater, or a ticket taker at events. For many students, this means that they can no longer earn a living on their own and have to interrupt their studies or even drop out as a result. The University of Freiburg seeks to help students in their plight and has thus launched a new funding program, "Student Emergency Grant," in cooperation with Alumni Freiburg e.V.
The Student Emergency Grant provides up to 300 euros per month in funding for a period of up to three months. The grant does not need to be paid back. Eligible to apply are all University of Freiburg students who run into financial difficulties through no fault of their own. By initiating this donation campaign, the
alumni association seeks to help our students in this difficult time. No one should be forced to drop out or take an extended break from their studies because of this pandemic emergency.
The aim of the Student Emergency Grant is to cushion the impact of losses in income that pose a threat to students' livelihoods, thus enabling them to continue their studies. Students may submit applications for the program starting immediately at the Studierendenwerk Freiburg, which has the human resources and necessary expertise to appropriately disburse these grants to students. The Studierendenwerk manages the Student Emergency Grant program independently. The university is not involved in the process of awarding the grants.
The booster association Alumni Freiburg actively supports the Student Emergency Grant program. "We ask all alumni to support this important campaign with a donation and help students in their plight," says Rudolf-Werner Dreier, managing director of the association.
The Student Emergency Grant at a Glance:
Like the Starting Scholarship program, the program is organized

in cooperation with the Studierendenwerk Freiburg-Schwarzwald

. We thus ask students to send their applications directly to the Studierendenwerk Freiburg – Schwarzwald.

Only students of the University of Freiburg

are eligible to apply.

The Student Emergency Grant is designed as a means of tiding students over in phases of financial hardship incurred through no fault of their own: It provides a

maximum of €300 per months for a period of up to 3 months

.

The grant does not need to be paid back.

The funding is intended for

particularly urgent and acute cases

and may only be awarded if other funding and support measures are not available.

Student Emergency Aid is intended as a

means of tiding students over until they find other, longer-term funding possibilities

. Applicants should thus describe what long-term funding for their studies might look like. Advisors from the Studierendenwerk are available to help applicants with this task.

In the coming weeks, the program will focus on students who are suffering inordinately from a loss of earnings as a result of the coronavirus pandemic

and have no possibility of compensating for this acute loss in another way.




Together with the Studierendenwerk, the University of Freiburg is thus adding to and strengthening the planned or existing measures taken by the state and federal governments during the pandemic.